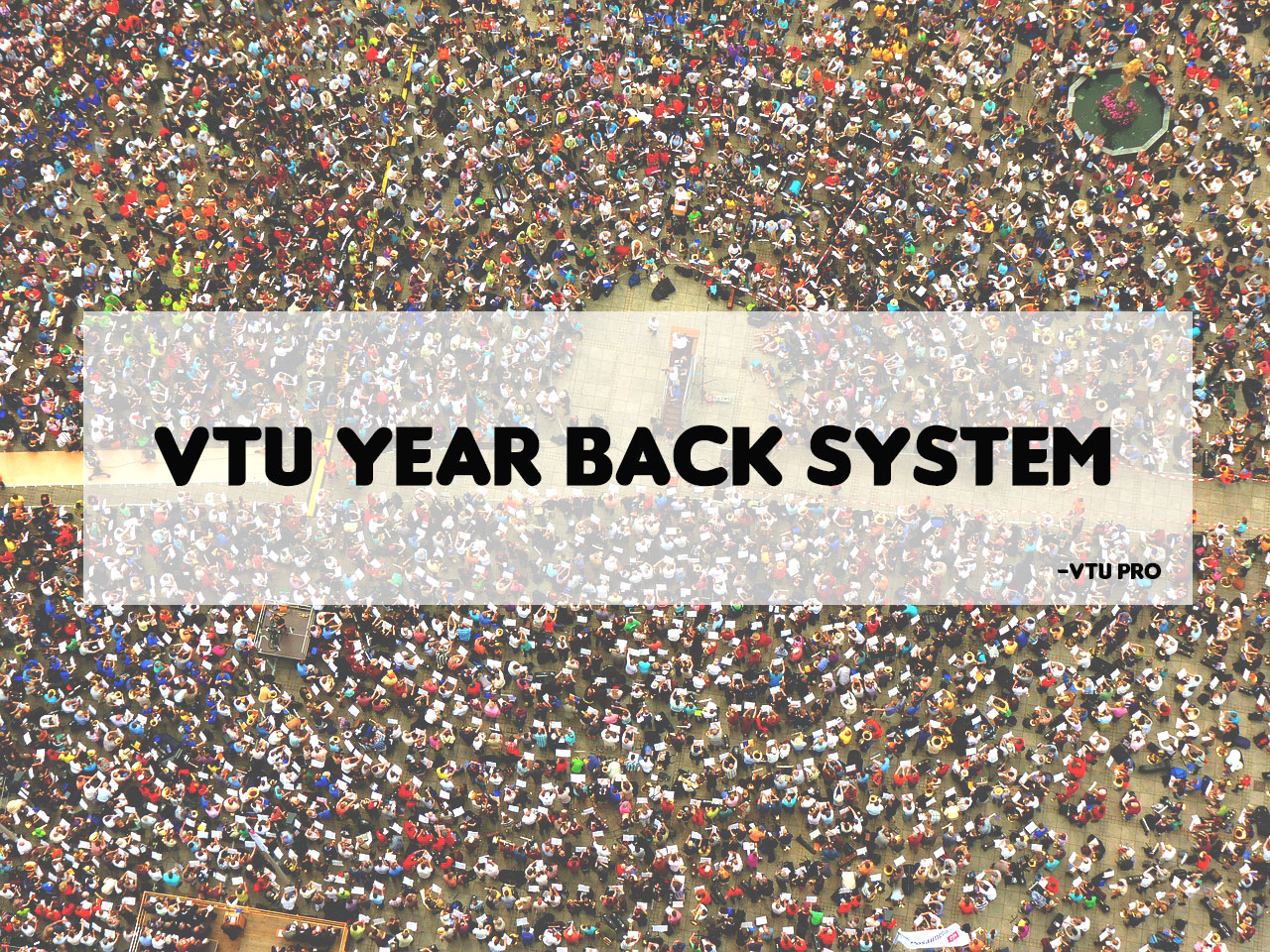 VTU Year Back System Will Be Removed or Not
The VTU year back or carry-over system is one of the real problem faced by the students studying in colleges that affiliated to vishweshwaraiah technological university. By the way, this is not the first time rumors spread on about VTU year back system. We hear this almost every year.
The students are pretty confident that this time around VTU is going to cancel the Year back system. We did ask them about the source of information they replied that their college principal told them but how accurate is this only time will tell.
Why should VTU year back system be canceled?
The year back concept does not exist in any other universities in India or anywhere else in the world. We all are aware that student is going to lose a complete year if they get a year back. Wasting a year only to pass a subject is entirely unfair.
Some of the other reasons this time are that the students currently studying in the 3rd year are the last batch to complete the 2010 scheme. If a student gets a year back now, then they have to study 2015 CBCS syllabus for the final year. The crash semester exam results will be published along with their corresponding 6th and 8th-semester exam. Crash Course students hardly had 15 days before they can write the regular examination.
What are the rules for a year back?
A candidate seeking eligibility for the 3rd semester should not have failed in more than four subjects of first and second semesters taken together.
A student is eligible for the 5th semester if they have passed in all the subjects of 1st and 2nd semesters and should not have failed in more than four subjects of third and fourth semesters taken together.
For 7th semester eligibility, a student should have passed in all the subjects up to 4th semester and should not have failed in more than four subjects of 5th and 6th semesters taken together.
Will VTU cancel year back system?
First, let me tell you guys a story. In the year 2012, some students filed a petition against the VTU year back system. However, the High Court of Karnataka ruled out the petition quoting "Students should know the rules before joining VTU or any of its affiliated colleges."
In a recent interview, VTU Vice-chancellor Karisiddappa told that
I request students to go through VTU guidelines carefully. What students are asking is, allow them to appear for the next year though they have many backlogs. We cannot do it, and This is not fair on students part as well. If students have backs, it is a real burden for them.
So in conclusion, we all want VTU year back system gone for good. However, from the above statement of VTU Vice-chancellor, the likeliness of this happening is next to impossible. We do not think students who are signing online petitions on websites like change.org, is going help in any way too as we can find hundreds of similar threads on those sites written a long time ago. Sorry to disappoint, but we have to accept the truth.
UPDATE
Some group of the student are planning a rally and protest against VTU on August 18th. If you are against VTU year back system and seeking justice. We would advise you to join them and make it a successful one.
Students have reached out almost every media regarding the year back, and the response by media was positive too. Over 20 state newspapers and few provincial print media have reported this issue. Advertisements are posted throughout the city and also in the presence of some engineering colleges.
Protest
New update guys, now there will be two protests one in Chikballapur on August 17th. Next day that is on August 18th there will be rally taking place from city railway station to freedom park. The AIDSO volunteers and VTU students struggle committee members have done all the hard work. Now students just have to join in the protest.
Protest in Chikballapur was successful here are the details to join in Bangalore:
Date:
18th of August
Time:
9:00 AM
Venue:
City railway station main gate, Bangalore.
Today there was a protest in Bidar at 10:30 AM from Bareed Shahi Hotel to Deputy Commissioner's Office via Ambedkar Circle. On 23rd August the protest will be held in Vijaypur at the venue Gandhi Chowk.
The protest against VTU year back system was very successful all over Karnataka than anyone would have imagined. All the newspaper and other similar publications mentioned about this issue. There are still protest going on in few other remaining states. Now we have to sit back and wait for the response from VTU.
The response of VC after protest
For all the students who were asking about the response of VC on the year back system. We finally have an update this is what Vice Chancellor said that he will be calling a meet next week to discuss the demands of students. Intellectuals have promised to talk to concerned authorities, and Minister is favoring students.
DEMANDS
Remove YB & Critical Year back System for 2010 Batch Students.
Provide Supplementary Examination for CBCS Scheme Students.
To pressurize, VTU students struggle committee and AIDSO have planned to hit the street. All VTU colleges bundh on September 1st. This is the movement for students to show their strength and stay united. Posters attached to every college entrances to spread awareness. Share this with every VTU students, It's now or never!!
Date 26/8/2017 press meet in Gulbarga.
Date 27/8/2017 press meet in Davanagere.
Latest Update on VTU Year Back System
Today AIDSO volunteers officially contacted many college principals. If you want to check the list of colleges please visit our Facebook page link is provided at the end. Remaining colleges in Bangalore will be covered tomorrow.
Why did AIDSO contact all college principals and what are its benefits?
As we all know, in the previous meet with VC, he said that there will be an executive council meeting on 30/08 and all college principals meeting on 31/08 regarding our protests and what should be the measure to solve all these issues.
One thing which is surprising and unbelievable is that each and every college principals are disappointed with VTU regarding examination system and no supplementary. We have submitted the request letter to all these college principals, and they have promised us that they will stand with students in this regard.
Why would college principals support students?
This is the question, but the catch here is, this time more than 30,000 Engineering seats are vacant and most of the students either shifting to autonomous or other courses because of CBCS and no supplementary in VTU.
College managements are extremely disappointed by lack of admissions this year, and all principals and management are with us.
What should students do?
In order to put more pressure on the next meeting, we are calling for a statewide bundh of VTU colleges on September 1st, and no principals are opposing it.
Obviously, they can't support it openly because of affiliation with VTU, but it is our right to protest, and no colleges will force you to attend on that day.
Now it's your turn to abandon classes on 01/09/2017 and head over to Mysore Bank Circle Bangalore.
No student shall attend classes on 01/09.
Protest venue: Mysore Bank Circle at 9:00 AM.
Regular Updates Here:
Update [12/09]
VTU Year back system is canceled for Non-CBCS students. To know more check our facebook page. For further clarification please click on the link below and play this audio
https://goo.gl/v1avzS or download from here https://goo.gl/TN2CxN.
AIDSO or the VTU struggle committee is yet to receive any update from VTU. We have worked through all the sources, but we are forced to wait. Until they release it officially we can't say anything at this moment. Please have an eye on the official website for the circular and try to stay away from rumors. Don't worry we will update too once we an official update.
Update [08/09/17]
Just checked the inbox on our social media and found a lot of messages. We can't answer each and everyone, so we collected the most asked questions and wrote this post.
* Did today's meet got cancel?
No there was a board of studies meet today.
* What is the update on the year back system?
Today was the board of studies meeting, but we have to wait for the final decision which will be out after the academic senate and executive council meeting held on 11th and 12th September. If VTU decides to declare what happened in the meet today, then we will surely update it.
* I have heard that only critical year back is canceled is it true?
Nothing official, yet it's just the rumor ignore it.
Update [04/09]
VTU struggle committee has met the board of studies members in Bangalore and explained the problems and demands.
Joint board of studies meeting is postponed from September 5th to September 8th, as many of the members asked to postpone the meeting due to the busy schedule.
After the protest, VTU VC has called for a meeting of the joint board of studies on 5th September. Check out our facebook page for more information.
1st September will be remembered as a historic student movement. More than 140 colleges completely shut down, and thousands of students are on roads protesting. This is students power!!
College principals meeting on 31/08 is over no updates regarding the meet yet. 1st September is the day to show what is students unity and what it can achieve. Make sure every student join the protest, venue and time are mentioned above.
Date 30/08 there was a protest against VTU in Davangere and VTU regional office Nagarbhavi. Photos and Video are posted in Facebook page link below don't forget like the page for regular updates. https://www.facebook.com/vtupro
More updates will be updated here soon. Follow us on Facebook & Twitter to get all the latest updates regarding VTU Year Back. If you have any issue or need help Comment down below or Contact us at https://vtupro.com/contact/.