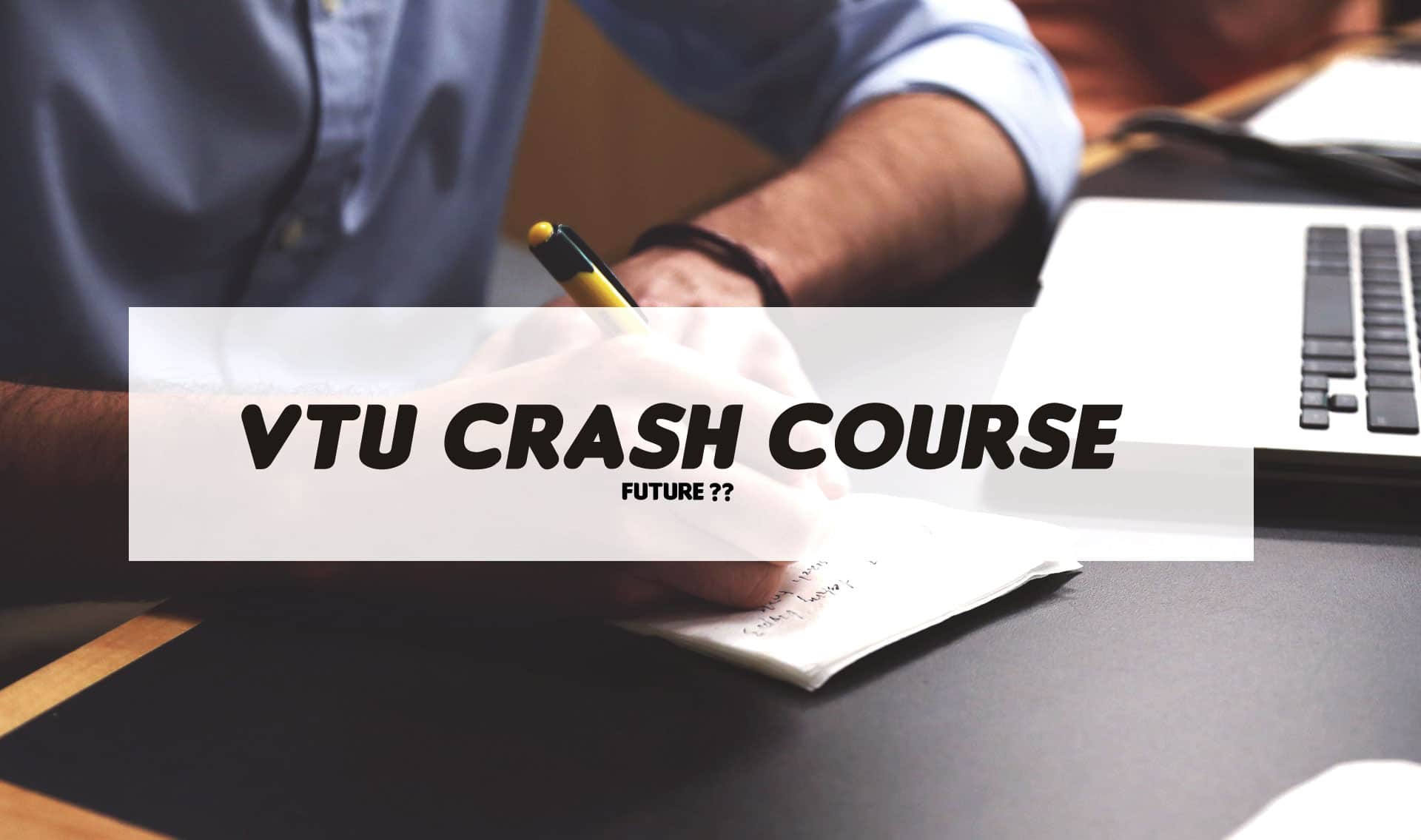 VTU CRASH COURSE UPDATES
VTU Crash Course is a program introduced by Visvesvaraya Technological University for students admitted in their respective courses for the year of scheme 2006, 2010 and 2014 to complete and get their degree sooner.
How does the crash course help students?
The crash course will be a significant boost for both year back and critical year back students. In VTU year back system a student will lose an entire year, as a result of backlogs they have acquired in their previous semesters.
Eligibility:
A student is eligible for the crash semester program only if they clear their previous backlogs. That is a student must have accomplished the minimum criteria rule of VTU year back system before the commencement of the even semester.
Was the previous crash semester program successful?
The main aim of the crash or extricating semester was helping students to get their degree. More than 20,000 students have graduated because of this project. Hence we have to accept that the program was a successful one.
However, we all must agree that VTU had no proper plan or failed miserably to execute those plans.
Some of the fails from VTU:
1) Many colleges did not follow the orders of VTU.
VTU VC had said that they had given some clear instructions to the colleges on conducting the crash course, but many colleges didn't follow this. We cannot entirely blame colleges as we have to consider that the lecturers hardly get few days of leave after each semester but because of the crash course, they had to take classes in the holidays too which was little unfair.
2) College reopening delayed.
As per VTU's direction, in seven weeks of time colleges had to cover an entire semester course for 5th and 7th-semester students. By then regular class was beginning, so VTU had no other option than to postpone the reopening of the college.
3) Poor exam time table.
The crash course students had to write their crash semester exam when regular classes were going on. Most colleges were conducting internal exams at the same time too. And the funniest part of the examination was it was on weekends that too continuously.
4) Change in the exam time table a day before the examination.
With all those problems mentioned above, VTU had to postpone the crash semester examination. The announcement was made just before a day in the evening before the exam. The irresponsibility of VTU caused this problem, and this shows how serious were they concerning the crash course.
5) Practical exam postponed.
VTU always conducted practicals before theory exams, but this time it was different as they had to postpone regular even semester examination. The delay in revaluation results was the main reason VTU had to postpone both theory and the practical examination.
Will VTU continue crash course system?
YES!! VTU will continue crash semester if VC really mean what he said in an interview recently. Here quoting what he said:
We cannot take away the crash course system. Ideally, students were having four months before the other semester begins, by taking the crash semester, they can eventually complete their examination and resume their new semesters easily, and there will not be any confusion. I had even instructed the colleges to conduct parallel sessions to overcome this.
From the above quote, it is very evident that there will be a crash course this year too. However, this course will be only for 2010 and above scheme students as the previous crash semester. As of now, there is news or update about the crash course for CBCS scheme.[irp]
Follow us on Facebook & Twitter to get all the latest updates regarding VTU crash course 2017. And please make sure to share this with your friends. If you have any issue or need help Contact us https://vtupro.com/contact/