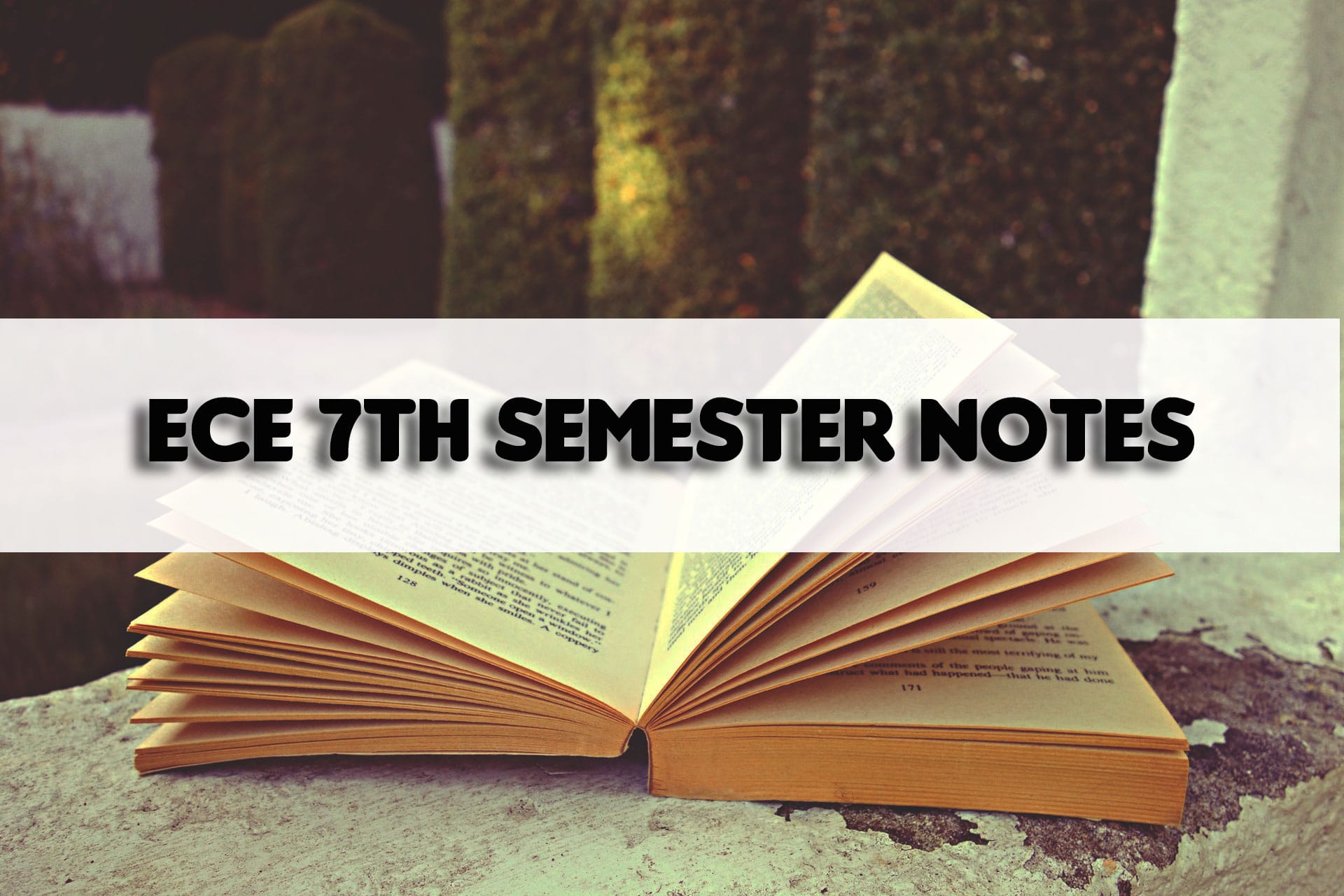 VTU ECE 7th Sem Notes Free Download In PDF Format
Download the VTU ECE 7th sem notes of subjects Computer Communication Networks, Optical Fiber Communication, Image Processing, Embedded System, DSP Algorithms & architecture, Power Electronics and Real Time Systems in PDF format.
Computer Communication Networks CCN VTU ECE Notes
Subject Code: 10EC71
Introduction To Networks
Data Link Control – OSI Model
Medium Access Control (MAC)
Wired LAN
Connecting LANs
Network Layer
Optical Fiber Communication VTU ECE Notes
Subject Code: 10EC72
Overview of Optical Fiber Communication
Transmission Characteristics of Optical Fibers
Optical Sources and Detectors
Fiber Couplers and Connectors
Optical Receiver
Analog and Digital Links
WDM Concepts and Components
Optical Amplifiers and Networks
Power Electronics VTU ECE Notes Download
Subject Code: 10EC73
Power Semiconductor Devices
Power Transistors
Thyristors
Commutation Techniques
Controlled Rectifiers
Choppers
Inverters
AC Voltage Controllers
Embedded System Design VTU 7th Sem ECE Notes
Subject Code: 10EC74
Introduction to Embedded System
The Hardware Side
Memories and the Memory Subsystem
Embedded Systems Design and Development
Real-Time Kernels and Operating Systems
Performance Analysis and Optimization
DSP Algorithms & Architecture VTU ECE Notes
Subject Code: 10EC751
Introduction to digital signal processing
Architectures for programmable digital signal processors
Programmable digital signal processors
Instructions and programming
Implementation of basic DSP algorithms
Implementation of FFT algorithms
Interfacing memory and parallel i/o peripherals to DSP devices
Interfacing and applications of DSP processor
Real Time Systems VTU ECE 7th Sem Notes
Subject Code: 10EC762
Introduction to Real-Time Systems
Concepts of Computers Control
Computer Hardware Requirements for RTS
Languages For Real-Time Applications
Operating Systems
Design of RTSS General Introduction
RTS Development Methodologies
Image Processing VTU ECE 7th Sem Notes
Subject Code: 10EC763
Digital image fundamentals
Image sensing and acquisition
Image transforms
Discrete cosine transform
Image enhancement
Basics of spatial filtering image enhancement in the frequency domain filters
Model of image degradation/restoration process
Color fundamentals
 Above notes are for VTU students studing in 7th Sem of branch electronics and communication engineering. Embedded System Design notes is from Arun Kumar and rest of the sources are SJBIT etc. All the notes are available in PDF format and are printable. If any of your elective subjects are missing feel free to comment down below.
Follow us on Facebook & Twitter to get all the updates on other Sem ECE notes, and please make sure you share this with your friends to share just one click on below images of facebook, twitter, google+ and WhatsApp. Have a problem in downloading or download link not working just email us at  [email protected].